Start
Schlagworte
BBC Live Lounge
Schlagwort: BBC Live Lounge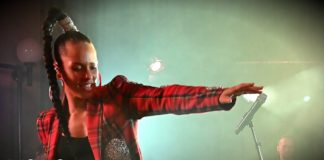 Alicia Keys performt "Fallin'" in der BBC Live Lounge. Der Track ist immer noch so gut nach all den Jahren und die Performance von...
Hozier hat's mal wieder allen gezeigt. In der Live Lounge von BBC Radio 1 vor zwei Wochen hat er sich an "Lay Me Down"...
Fluffiges Cover von Drakes "Hold On, We're Going Home" der Arctic Monkeys für die BBC Radio 1 Live Lounge. http://www.youtube.com/watch?v=RvA3q0ZU-NQ
The Tings Tings covern Lana Del Reys Born To Die für die BBC Radio 1 Live Lounge. http://youtu.be/ACBj6lfe-1U
Chase & Status spielen mit Hilfe von Delilah eine schöne und eigenwillige Version von "Rope" der Foo Fighters in BBC"™s Live Lounge. http://player.soundcloud.com/player.swf?url=http%3A%2F%2Fapi.soundcloud.com%2Ftracks%2F14813525&Chase & Status...