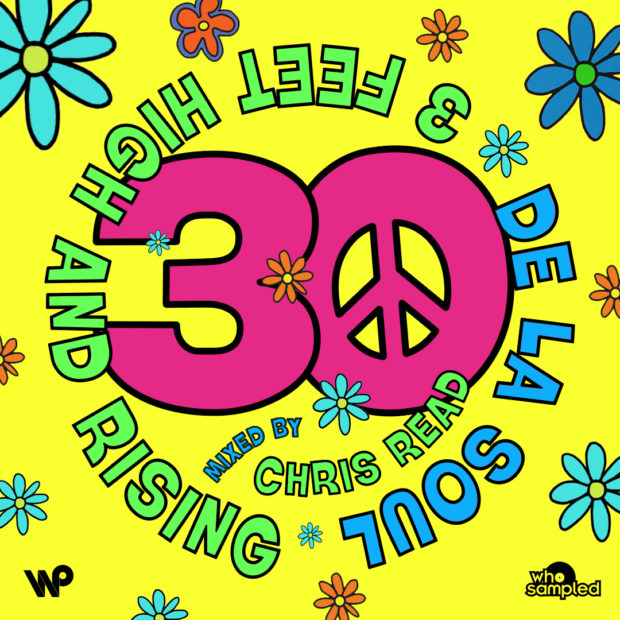 Wax Poetics hat sich erneut mit WhoSampled zusammengetan, um das Jubiläum eines großartigen Albums, einem HipHop-Meilenstein mit einem Mixtape zu feiern. De La Souls "3 Feet High and Rising" ist dreißig Jahre alt geworden. Das Album mit dem ikonischen Flower Power Artwork ist und bleibt ein Sample-HipHop-Masterpiece, das heute wie "Paul's Boutique" von den Beastie Boys oder Public Enemys "It Takes A Nation of Millions to Hold Us Back" allein aus rechtlichen Gründen so nicht mehr veröffentlicht werden könnte.
Abgemischt wurde der großartige Mix von DJ Chris Read aus Album-Tracks, original Samples, alternativen Versionen und Interview-Schnipseln.
On March 3rd 1989, De La Soul released their critically acclaimed debut album '3 Feet High and Rising' and Hip Hop music changed forever. At a time when samples of James Brown and various other breakbeat staples ruled supreme, De La Soul and long time production partner Prince Paul cast the net far wider, snatching up snippets of vintage Soul, Rock n Roll, Disco, Spoken Word albums and children's records to create a collage the likes of which had not been heard before and would not be heard again until the release of Beastie Boys' similarly eclectic Paul's Boutique several months later. Lyrically, the album married zany humor, honest observations of real life and occasional social commentary. Released less than a year after N.W.A's ground breaking 'Straight Outta Compton' and Public Enemy's politically charged opus 'It Takes A Nation of Millions…', '3 Feet High and Rising' offered a light hearted counterpoint to the harder edged sounds emerging on both coasts and would set the scene for revered Long Players of comparable stature from groups including A Tribe Called Quest and The Pharcyde in the years that followed.

With its iconic artwork and strong visual identity complimenting the album's unique sonics, the LP is rightly considered not only one of the greatest Hip Hop albums of all time, but one of the greatest albums of all time, period. The album is predictably a regular appearance on prominent 'Greatest Album' lists published by the likes of Rolling Stone, Spin and Ego Trip.
Tracklist:
1. Kermit Schafer – Side 3 [Extract] (sampled in 'Buddy (Native Tongue Decision)')
2. Steve Miller Band – Take the Money and Run [Loop] (sampled in 'Jenifa Taught Me')
3. Dr. Buzzard's Original Savannah Band – Hard Times [Loop] (sampled in 'Ain't Hip to Be Labelled a Hippie')
4. Chris Read – Theme #3 (Scratchapella)
5. Liberace – Chopticks Live at Carnegie Hall (Sampled in 'Plug Tunin')
6. De La Soul – Intro
7. The Turtles – You Showed Me (sampled in 'Transmitting Live From Mars')
8. De La Soul TV Feature 1989 [Extract]
9. Wilson Pickett – Hey Jude (sampled in 'Transmiting Live From Mars')
10. De La Soul TV Interview 1989 [Extract]
11. De La Soul – Transmitting Live From Mars
12. Barry White – I'm Gonna Love You A Little Bit More (sampled in 'De La Orgee')
13. De La Soul – De La Orgee
14. Manzel – Midnight Theme [Loop] (sampled in 'Description')
15. Sly & The Family Stone – Poet (sampled in 'Description')
16. De La Soul – Description
17. The Invitations – Written On The Wall (sampled in 'Plug Tunin')
18. Bar Kays – Son of Shaft (Live) [Extract] (sampled in 'Plug Tunin')
19. De La Soul – Plug Tunin'
20. Billy Joel – Stiletto (sampled in Plug Tunin')
21. Melvin Bliss – Synthetic Substitution (sampled in 'Pothles in My Lawn')
22. Eric Burdon & War – Magic Mountain (sampled in 'Potholes in My Lawn')
23. Brother Soul – Cookies [Extract] (sampled in 'Potholes in My Lawn')
24. Parliament – Little Old Country Boy (sampled in 'Potholes in My Lawn')
25. De La Soul – Potholes In My Lawn
25. Average White Band – School Boy Crush (sampled in 'D.A.I.S.Y Age')
36. De La Soul – D.A.I.S.Y Age
37. The Rascals – My World (sampled in 'D.A.I.S.Y Age')
38. Bo Diddley – Hit or Miss (sampled in 'Buddy')
39. The Commodores – Girl I Think the World About You (sampled in 'Buddy')
40. De La Soul feat Jungle Brothers & Q-Tip – Buddy
41. Taana Gardner – Heartbeat (sampled in 'Buddy (Native Tongue Decision)')
42. Freedom – Get Up and Dance [Extract] (sampled in 'Buddy (Native Tongue Decision)')
43. Bob James – Take Me To The Mardi Gras [Extract] (sampled in 'Buddy (Native Tongue Decision)')
44. De La Soul feat Jungle Brothers, Q-Tip, Queen Latifah and Monie Love – Buddy (Native Tongue Decision)
45. Headhunters feat Pointer Sisters – God Made Me Funky [Loop] (sampled in 'Take It Off')
46. De La Soul – Take It Off
47. The Sequence – Funk You Up [Loop] (sampled in 'This Is A Recording 4 Living In A Full Time Era')
48. The New Birth – Got to Get a Knutt [Extract] (sampled in 'This Is A Recording 4 Living In A Full Time Era')
49. De La Soul – 'This Is A Recording 4 Living In a Full Time Era'
50. James Brown – Funky President [Extract] (sampled in 'Ghetto Thang')
51. The Blackbyrds – Dreaming About You [Loop] (sampled in 'Ghetto Thang')
52. The Blackbyrds – Rock Creek Park (sampled in 'Ghetto Thang')
53. De La Soul – Ghetto Thang
54. The Monkees – Mary, Mary [Loop] (sampled in 'Change in Speak')
55. The Mad Lads – No Strings Attached (sampled in 'Change in Speak')
56. De La Soul – Change in Speak
57. Cymande – Bra (sampled in 'Change in Speak')
58. Lee Dorsey – Get Out My Life Woman [Loop] (sampled in 'Eye Know')
59. The Mad Lads – Make This Young Lady Mine (sampled in 'Eye Know')
60. De La Soul – Eye Know
61. Steely Dan – Peg (sampled in 'Eye Know')
62. Otis Redding – (Sittin' On) The Dock of a Bay [Extract] (sampled in 'Eye Know')
63. Sly & The Family Stone – Sing a Simple Song [Loop] (sampled in 'Eye Know')
64. Sly Stone – Crossword Puzzle [Extract] (sampled in 'Say No Go')
65. The Emotions – Best of my Love [Extract] (sampled in 'Say No Go')
66. Hall & Oates – I Can't Go For That (No Can Do) (sampled in 'Say No Go')
67. De La Soul – Say No Go
68. People's Choice – I Like To Do It (sampled in 'Tread Water')
69. De La Soul – Tread Water
70. Funkadelic – (Not Just) Knee Deep (sampled in 'Me Myself and I')
71. Ohio Players – Funky Worm [Extract] (sampled in 'Me Myself and I')
72. De La Soul – Me Myself and I
73. Edwin Birdsong – Rapper Dapper Snapper (sampled in 'Me Myself and I')
74. Ben E King – Don't Play That Song (You Lied) (sampled in 'A Little Bit of Soap')
75. De La Soul – A Little Bit of Soap
76. Lyn Collins – Think (About It) [Loop] (sampled in 'Jenifa Taught Me')
77. De La Soul – Jenifa Taught Me
78. Double Dee & Steniksi – Lesson 3 [Loop] (sampled in 'Magic Number')
79. Eddie Murphy – Hit By A Car [Extract] (sampled in 'Magic Number')
80. Bob Dorough – Three Is A Magic Number (sampled in 'Magic Number')
81. De La Soul – Magic Number
82. De La Soul – Magic Number (1-2-3 Mix)