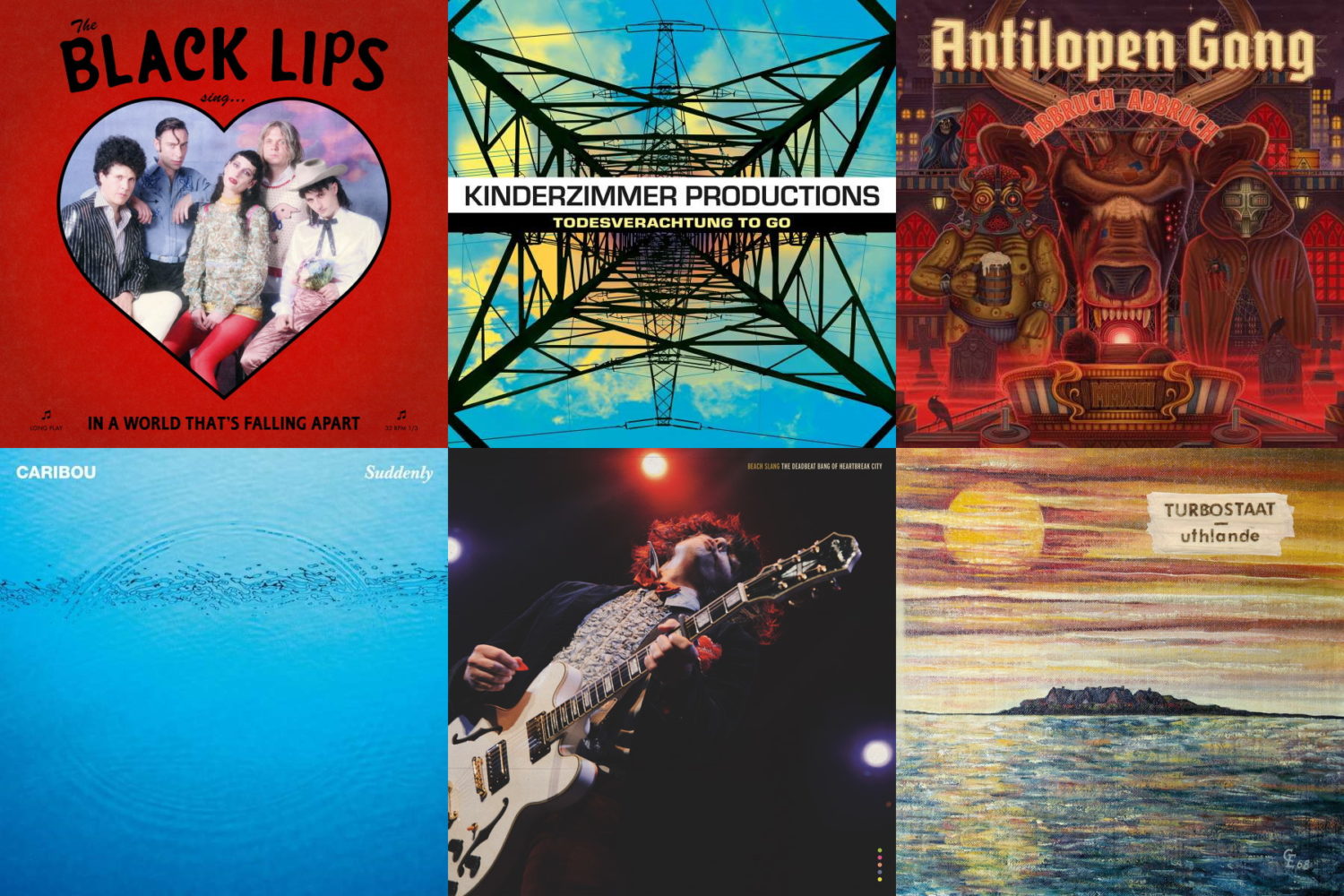 Happy 2020! Auch dieses Jahr erwarten uns wieder einige spannende Veröffentlichungen. Auf welche Platten wir uns in den nächsten Wochen besonders freuen, lest ihr hier.
Algiers – There Is No Year (17.1.20)
Algiers aus Atlanta veröffentlichen ihr drittes Album. Am Schlagzeug sitzt weiterhin Ex-Boc-Party-Drummer Matt Tong.
Antilopen Gang – Abbruch Abbruch (24.1.20)
Die Antilopen Gang hat sich mit ihren vorab veröffentlichten Singles nicht überall beliebt gemacht. Mal sehen wo sie mit "Abbruch Abbruch" noch so anecken werden.
Beach Slang – The Deadbeat Bang Of Heartbreak City (10.1.20)
Beach Slang veröffentlichen mit "The Deadbeat Bang Of Heartbreak City" ihr drittes Studioalbum.
Matt Berninger – Serpentine Prison (tba)
The National Frontmann Matt Berninger hat angekündigt an einem Soloalbum zu arbeiten. Das Release Date ist noch nicht bekannt, aber der Albumtitel steht fest und ein gemeinsames Duett mit Phoebe Bridgers wurde bereits veröffentlicht.
Black Lips – Sing in a World That's Falling Apart (24.1.20)
Die Black Lips stehen mit ihrem neunten Album in den Startlöchern.
Caribou – Suddenly (28.2.2020)
Mit "Suddenly" droppt auch Testspiel-Liebling Caribou eine neue Platte.
Destroyer – Have we met (31.1.20)
Auch Destroyer macht mit "Have We Met" das Duzend voll.
Grimes – Miss Anthropocene (21.2.20)
Claire Boucher aka Grimes veröffentlicht im Februar ihr fünftes Album.
Kinderzimmer Productions – Todesverachtung To Go (17.1.20)
Nach 12 Jahren Pause melden sich Kinderzimmer Productions mit ihrem siebten Album "Todesverachtung To Go" zurück.
Kvelertak – Splid (14.2.20)
Das erste Album mit neuem Sänger: Für "Splid" von Kvelertak hat sich erstmals Ivar Nikolaisen von The Good The Bad And The Zugly hinter das Mikrofon geklemmt.
Messer – No Future Days (14.2.20)
Die Gruppe Messer aus Münster veröffentlicht mit "No Future Days" ihr viertes Album.
Mura Masa – R.Y.C. (17.1.2020)
Nach seinem gefeierten Debütalbum veröffentlicht der Junge Brite Mura Masa sein zweites Album "R.Y.C.".
of Montreal – Ur Fun (17.1.20)
Mit "Ur Fun" veröffentlichen of Montreal bereits ihr 16. Studioalbum.
The Orielles – Disco Volador (28.2.2020)
Geschmeidiger Indie-Pop erwartet uns auf dem zweiten Album von The Orielles.
Poliça – When We Stay Alive (31.1.2020)
Nach einem Sturz und schweren Brüchen ist Channy Leaneagh von Poliça wieder wohl auf und meldet sich mit neuem Album "When We Stay Alive" zurück.
Run The Jewels – 4 (tba)
"#RTJ4 2020" steht auf der Website von Run The Jewels. Mehr haben Killer Mike und El-P bisher noch nicht verraten. Wir sind gespannt und halten euch auf dem Laufenden.
Die Sterne – Die Sterne (28.2.20)
Die Sterne machen das Duzend voll und veröffentlichen im Februar ihr neues Album "Die Sterne".
Tame Impala – The Slow Rush (14.2.20)
Mit "The Slow Rush" veröffentlicht Tame Impala Mastermind Kevin Parker sein viertes Studioalbum. Die Aufnahmen entstanden in Los Angeles und Fremantle in Australien,
Turbostaat – Uthlande (17.1.20)
Nach dem Livealbum "Nachtbrot" veröffentlichen die Nordlichter von Turbostaat im Januar ihr neues Studioalbum "Uthlande".
Wolf Parade – Thin Mind (24.1.20)
Die Kanadier von Wolf Parade veröffentlichen ihr fünftes Album "Thin Mind".