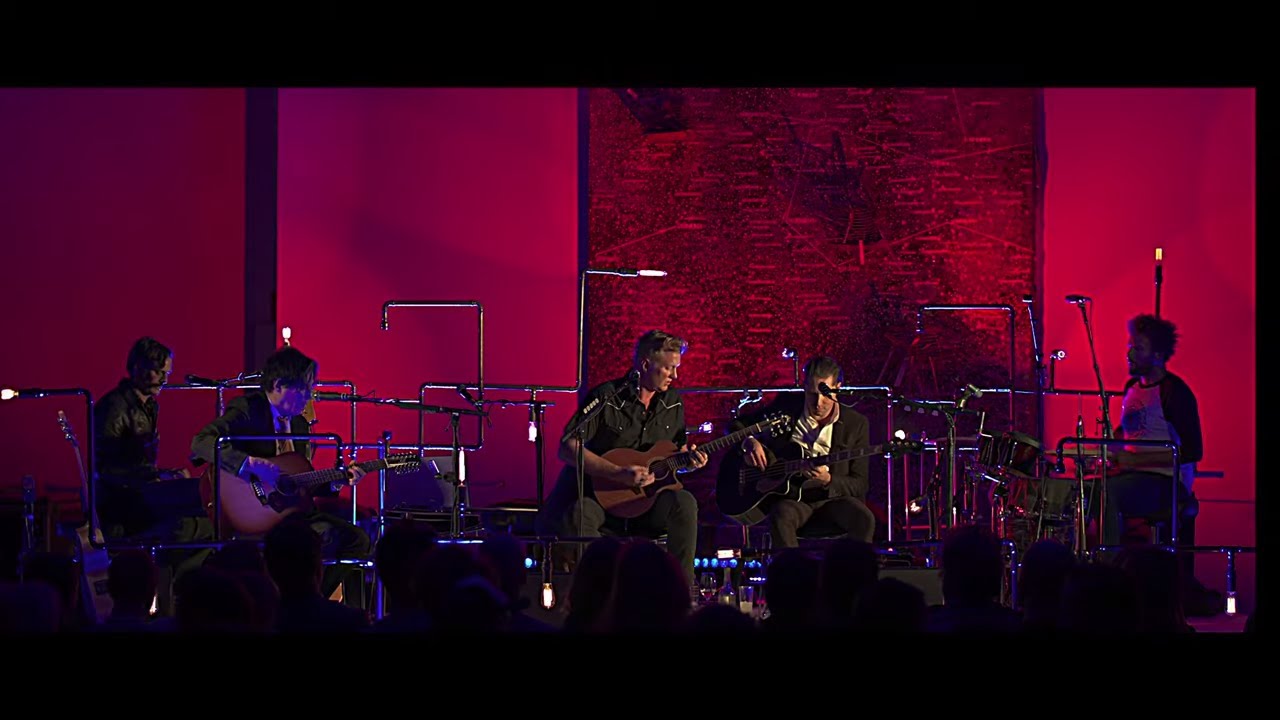 5 Jahre nach den schrecklichen Terroranschlägen am 13. November 2015 in Paris bei denen 130 Menschen getötet und 683 verletzt wurden, zeigen Queens of The Stone Age für eine begrenzte Zeit bisher unveröffentlichte Ausschnitte ihres Benefizkonzert aus dem Jahr 2018 im Museum of Old and New Art in Tasmanien und rufen zu Spenden auf.
Damals, zum Zeitpunkt der Attacken spielten die Eagles of Death Metal gemeinsam mit Josh Homme ein Konzert im Bataclan. 89 Konzertbesucher starben, weitere hunderte Menschen wurden teilweise schwer verletzt.
If you can, donate to The Nick

Alexander Memorial Trust: https://paypal.me/NAMTLFP or Life For Paris: http://lifeforparis.org/.

Previously unseen live footage recorded September 3rd, 2018 from MONA (Museum of Old and New Art), Tasmania, in aid of The Nick Alexander Memorial Trust and Life for Paris charities.

Filmed & Edited by Matt Dowling and Alexander Diaz for Blackmagic Design.
"Donate what you can if you can."
Setlist:
1:45 The Way You Used To Do
7:39 Go With The Flow
11:17 Make It Wit Chu
17:11 Better Living Through Chemistry
26:53 Mama Got The Blues (feat. C. W. Stoneking)
Das volle Set umfasste 11 Songs (siehe Setlist.fm).
Auch gut: Queens of the Stone Age live in Düsseldorf (Rockpalast 2013).
Setlist:
1. You Think I Ain't Worth A Dollar, But I Feel Like A Millionaire 00:00:00
2. No One Knows 00:02:39
3. My God Is The Sun 00:07:34
4. Burn The Witch 00:11:20
5. I Sat By The Ocean 00:15:38
6. Long Slow Goodbye 00:19:34
7. …Like Clockwork 00:24:42
8. In The Fade 00:30:30
9. Misfit Love 00:34:32
10. If I Had A Tail 00:42:08
11. Kalopsia 00:47:35
12. Little Sister 00:53:27
13. Smooth Sailing 00:56:24
14. Make It Wit Chu 01:01:33
15. Mexicola 01:07:32
16. Better Living Through Chemistry 01:12:36
17. Go With The Flow 01:22:54